The Objective

of This 6-week Program is: 
 to remove your DNA money blocks that prevent clarity on what you desire to do so you have an income source that gives you financial freedom.
Why Is money such a difficult and uncomfortable subject to talk about?
This is the introduction of the book "The Energy of Money – Maria Nemeth, Ph.D"
"We love money and  we hate it. We cant live with it, and we cant live without it. Money can be a source of great joy and creativity, or it can bring frustration and misery, depending our relationship with it. And we bring all these doubts and fears, hopes and expectations with us everytime we deal with money – not just when we visit a financial planner or a loan officer, but in every area of our lives.
Money touches almost every aspect of living: work, leisure time, creative activities, home, family, and spiritual pursuits. Everything we do and dream of is affected by our relationship with this powerful form of energy. Whether your dream is to travel around the world, pay for a house, establish a food bank, buy a Corvette, get out from a mountain of debt, or take a year off to write a novel, that vision is intertwined with the possibilities and pitfalls bound up in the energy of money.
​This very discomfort is what makes our relationship with money such fertile ground. Whatever is potent for us, whatever elicits strong emotions, whatever seems to "hold on to us" in life has the power to bring forth our greatest strength and most remarkable qualities. Our relationship with money calls on us to wake up, to see how we are handling all kinds of energy – not only money, but time, physical vitality, enjoyment, creativity, and the support of friends – and to use those lessons to enrich every aspect of our lives."
Why developing a healthy relation to money is important? Why it is important to remove your personal money obstacles? 
Personal money obstacles are many, and those that really block us, are the unconscious  and very subtle ones and they include:
the

existence

 and source of our  prejudice
hidden hostilities
irrational fears
perceptual blind spots
mental ruts

resistance

 to growth
How you do money is how you do life!
As shown below, money affects all 6 major life areas. When you work freely and easily with the energy of money, your life will become intentionally satisfying. You will know precisely what you want and what brings you joy and meaning. 
Physicist David Bohm " every aspect of our life has a reflection in every other aspect.  Your relation with money is a metaphor for our relationship with all forms of energy – time, physical vitality, enjoyment, creativity and the support of friends. These energies empower of lives. Without any one of them, life becomes difficult. When you learn to use the energy of money, you can use any form of energy with ease.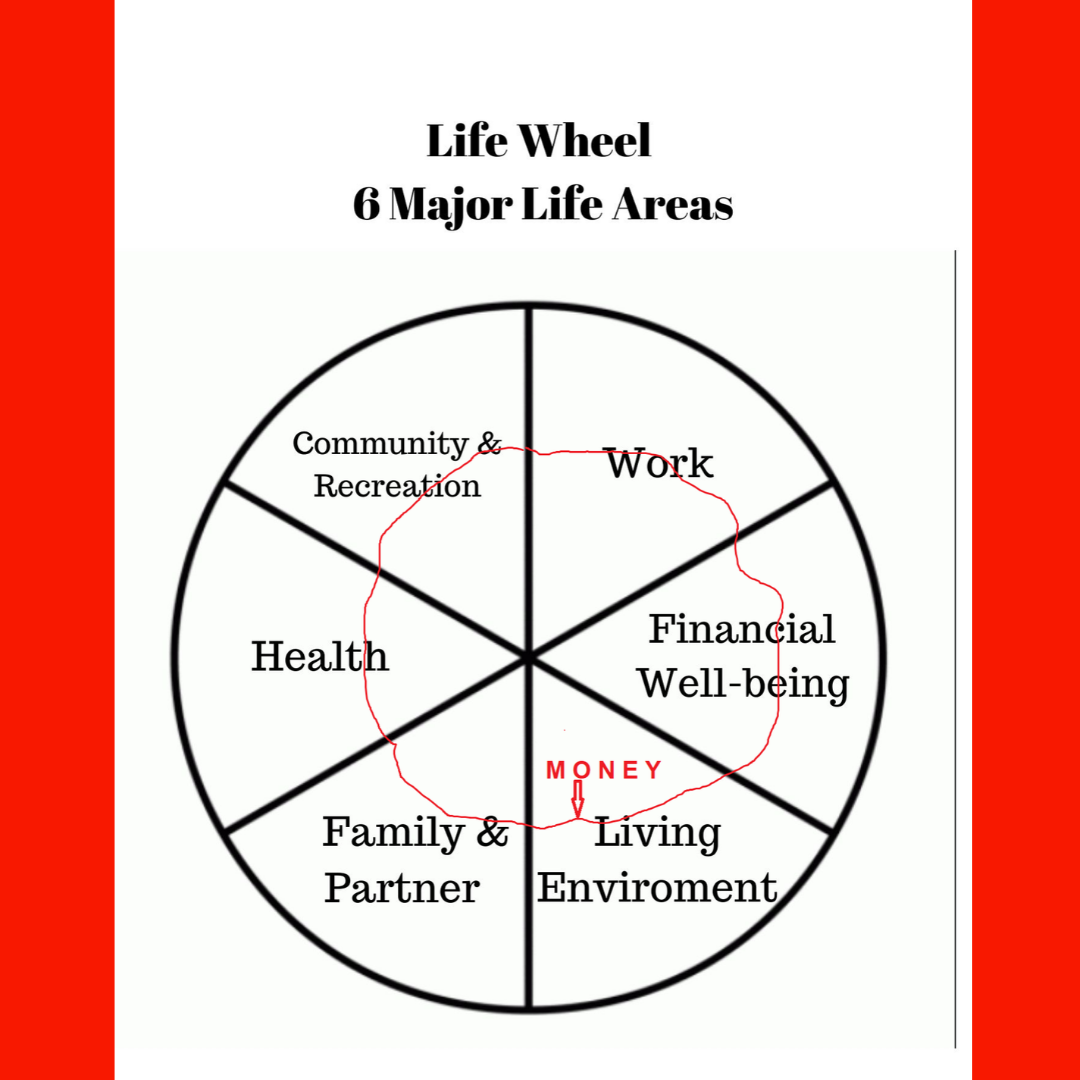 ​This workshop is on your money storylines that you have and which are heavy and keeps you in victim mentality. We will work on our beliefs around money in 3 phases (1) Ages 0-3 (2)  Ages 4- 18 and (3)Ages  19 till your age today. These beliefs include too: Life is so meaningless and God only rewards me sometimes! 
I will guide you through both on the physical and metaphysical reality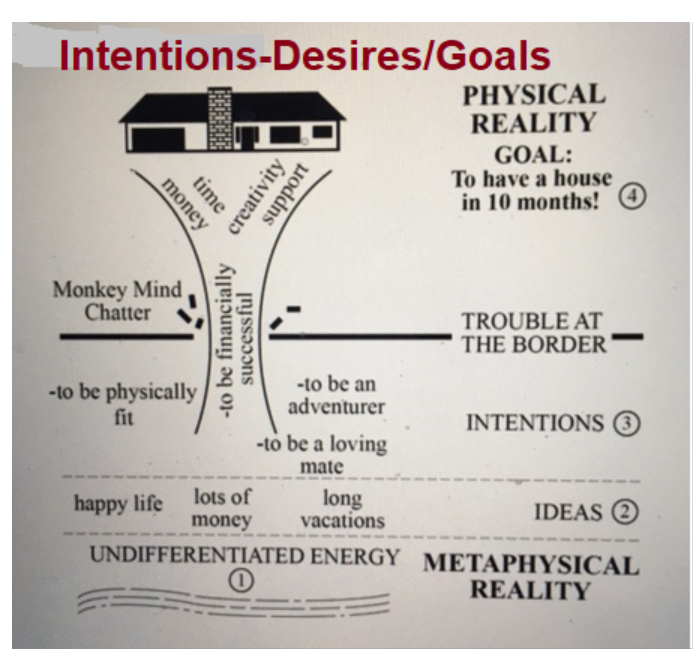 The Course is named  Dna Money Clearing for Wealth Mind Sets to Financial Freedom 
Wealth is a feeling that comes from inside of me: it comes from knowing that I value the money in my life. I feel wealthy knowing I now live life on my terms: I get to do the work I love in a way that fulfills me. I am immensely grateful for all I have in my life and so I look after it. But mostly, I manage my money because I have a huge WHY: my life's vision is huge, and the legacy I want to leave, the people I want to help and the difference I want to make in this world need me to be great with money. 
This is a 6 Module Course covering:
Module 1 - Self-knowledge, Self-assessment - Your Intention why you are doing the course 
Module 2 – DNA clearing of Inner Blocks - Part 1
Module 3 - DNA clearing of Inner Blocks - Part 2
Module 4 - Staying the Course with Gratitude & Humility by connecting to your Money Warrior
Module 5 – Your Financial Vision – Setting Up Your Personal Financial Strategy & Sustaining Your Willingness to aim for Financial freedom
Module 6 - Follow Up & Wrap Up -after 30 days from Module 5 Exercises 
I will not be telling you how to invest you money or where to put your savings. What I will do is help you remove DNA money blocks that prevents you from having a healthy relationship with money. The process I will be using is combination of a  Subconscious Release Technique, The Level of Consciousness - Dr. David Hawkins and linking them is kinesiological muscle testing.  
Modules are sent out 7 days before the Life Weekly Online Sessions. At these life sessions, I will go through the contents of the module, answer any questions that arise and do clearings for the group.
Who is this for?
Men & Women who would like to understand the energy of Money so that they can have financial freedom

Successful Men & Women who feel they would like to take their next step and contribute to "the goodness" of people on Earth

Men & Women who knows they are not living up to their full potential and would like to

Men & Women who want to raise money needed to manifest their goals
What will you get?
The 6 Modules Incl. Wrap Up

$  197 value

Turbo Alpha-Mind Guided meditation

$   97 value

6 Live Group Coaching of 60 minutes each

$   300 value
 Book - DIY Self Healing with SRT, The Subconscious Release Technique 
 E-mail connection for Q&A

TOTAL VALUE 

$594
LIMITED TIME OFFER, REGISTER NOW
                                          Special Promotion for USD 79 / Danish Kroner 497 / Euro 67 /GBP 57 / AUD 107                                                                                        
Testimonial
6-Modul Course - Clearing of DNA Money Blocks to Prosperity
This workshop is truly about getting clarity to truly know and heal oneself and one's relations. The money part is more like the bonus! It has helped take me through several powerful shifts of consciousness in a very short time. There's been noticeable growth in all aspects of my life. Benefiting myself, my relationships and my work with my clients. If you are ready, willing, open and able, I highly invite you to step through this door! I have. Twice. 
I can feel your personality coming through very strongly. I like that it is bold, authentic yet very loving and compassionate.
 Virna L.    Aromatherapy, Bio-energy Healing, Emotional Healing, USA
6th December 2021
LIMITED TIME OFFER, REGISTER NOW
Regular Price USD594 

  

Today USD 79
Who am I?
I call myself, the Silver Crone from Denmark, Peace & Prosperity Mentor. My focus are young professional women and single moms of all ages.  I have been doing this work for the last 15 years.
The fundamental aspect of my service is that I live in wellness myself. I see myself an example of wellness and abundance and the peace of having my personal world in order and thriving. Today I don't feel any guilt or shame about living well while practicing and believing in the core values of spirituality, of peace, purity, harmony and essential harmless in my feelings.
And it does take work to be in Unity Consciousness – Oneness and to believe that God wants Abundance for us. But letting go of separation consciousness is real work because we are so deeply programed to be separate and to take in negativity into ourselves.
The good news is I have found the Lotus Way, a combination of  3 energy techniques, Subconscious Release Technique, Emotional Codes, Levels of Consciousness, ideal for the purpose of releasing deep unconscious negative programs and thought-patterns. This combination is so simple, yet so effective and you can feel the change immediately.
My qualifications: Law of Attraction Specialist from QSCA, USA. Trained Acupressurist, The Department of Traditional Medicine, Hanoi Medical College, Vietnam.  Ayuverdic Yoga Massage trained by Sidhamo Micheal Johnson.  Reiki and Schiem Master Teacher trained by Ms.Mohanie Ahangama of the Dr.Mikao Usui lineage. Certified Healer trained by Charlotte Pedersen of the Bob Moore lineage. Businesswoman - Director of Kiki Design AS. Bachelor of Business Studies, London.
Frequently Asked Questions
These are some of the questions people most frequently ask us:
When does the program start?
This course starts 11th October 2021
Why should I register now?
The course is at a special price now. Dont you want financial freedom? Why wait?
Will I get to ask questions about my personal situation?
At the online live sessions you will get your answers to your personal questions. You have email access while the course is in progress and for  3 months after purchase of the course. I will answer any questions you may have. My email address is lian.henriksen2009@gmail.com
What if I have more questions before I am ready to register?
Great! I appreciate your interest and am happy to answer any questions you may have. Simply send your email to lian.henriksen2009@gmail.com and I will be in touch with you to address your concerns.
Will this program help me to meditate?
Yes! One of the benefits of this program is that I will provide you meditation techniques and tools, as well as the guided meditations to work with. It does not take effort but simply a willingness to be still, listen and feel. You will enjoy the meditations and see immediate results using them.
LIMITED TIME OFFER, REGISTER NOW
Regular Price

USD594

  Summer Special USD79/AUD107/EURO67/GBP57